How often have you needed to join different music files into one MP3 or other audio files? For whatever situations you may run into: make this merged song be your ringtone; add certain effects to make sure the subsequent track don't abruptly play or stop; merge into one single and non-stop audio track for playing on the party or other official uses, a qualified MP3 joining program is necessary. In this post, we'll introduce to you the Best MP3 Cutter Software as well as  MP3 Merger Sofwtare – MP3 Cutter Joiner Free.
Oppositely, you may have the need to cut audio files for getting rid of extraneous bits like annoying intros or outros; separate logical parts of a continuous recording and organize them for easy access; need only a part of the recording to use as a tune for your mobile phone. Regardless of what you wish to do and why, you should get an the best MP3 cutter software first.
---
Not Enough Time?  Jump to Any Part of the Post You want!
---
If you have no idea of the tools you need right on cutting or merging music tracks, worry no more! We've got you covered! In this post, we will recommend you with the best MP3 cutter software to help you cut or combine audio tracks with ease. Just keep reading to find what you need. You can start your journey to becoming a techno cutter or mixer by having the below-advanced software readily available for you.
Quick Overview: Best MP3 Cutter Software
| Best MP3 Cutter Software | OS | Merger | Ease of Use | Usability | Overall Rating |
| --- | --- | --- | --- | --- | --- |
| MP3 Cutter Joiner Free | Windows, macOS | | (5 / 5) | (4.5 / 5) | (5 / 5) |
| MixPad | Windows, macOS, Android | | (2 / 5) | (4.5 / 5) | (4.5 / 5) |
| Free MP3 Cutter and Editor | Windows | | (4.5 / 5) | (3.5 / 5) | (4 / 5) |
| Audacity | Windows, macOS, GNU/Linux | | (2 / 5) | (4.5 / 5) | (4.5 / 5) |
| mp3DirectCut | Windows, Linux with Wine | | (5 / 5) | (3 / 5) | (3.5 / 5) |
| WavePad | Windows, macOS, Android, Kindle | | (3.5 / 5) | (5 / 5) | (4.5 / 5) |
| MP3splt | Windows, macOS, Linux, BSD, Solaris | | (2.5 / 5) | (3 / 5) | (3 / 5) |
---
Your Best Bet –  MP3 Cutter Joiner Free
MP3 Cutter Joiner Free , as its name suggests, it is a versatile audio processing tool which comes along with different abilities: MP3 cutter, MP3 joiner, audio converter, audio editor, CD ripper and many more actions. For those who want to cut and merge audio files but don't want to bother to search and download the audio cutter and merger separately, MP3 Cutter Joiner Free is a tailored one for them that they will surely love.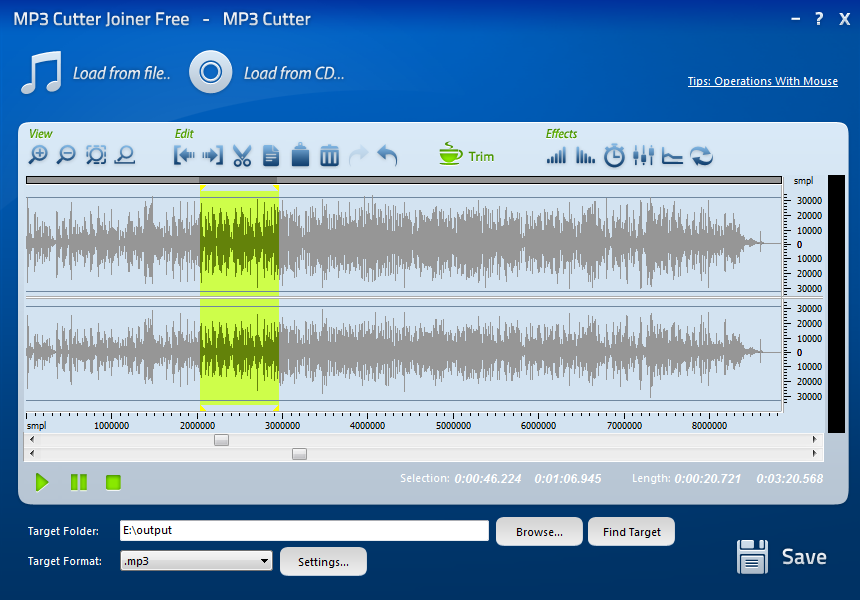 Download for Windows Download for Mac
---
Benefits of MP3 Cutter Joiner Free (Best MP3 Cutter Software)
As an incredibly full-featured and free audio cutter and joiner program, MP3 Cutter Joiner Free is designed for users of any level. Whether you're a professional sound engineer or a casual user who just want to manipulate audio files for home use, it always offers the powerful tools and features you need to create your own custom soundtrack. Besides the above basic functions like audio cutting, joining, conversion and CD ripping, our best MP3 cutter software provides plenty of extra features including: join audios in different formats & bitrates; preset output quality; arrange files in any order; apply audio effects; millisecond display; support widest list of audio formats and so on.
Although music processing can be a frustrating endeavor and there are tons of such tools all over the internet, you can always find one which can best fit your needs like MP3 Cutter Joiner Free. What sets this tool apart from most is the fact that not only does it process in a faster workflow, but it also preserves the original audio quality.
MP3 Cutter Joiner Free is much less complicated and it works miracle with your audio files. It boasts a straightforward and well-organized with a delightful design, which allows the user who know nothing about audio processing operate without hassle. If you are wondering how to cut or join audio files easily, then you would get all the resources you need in the following guides.
---
How to Use Best MP3 Cutter to Cut Audio?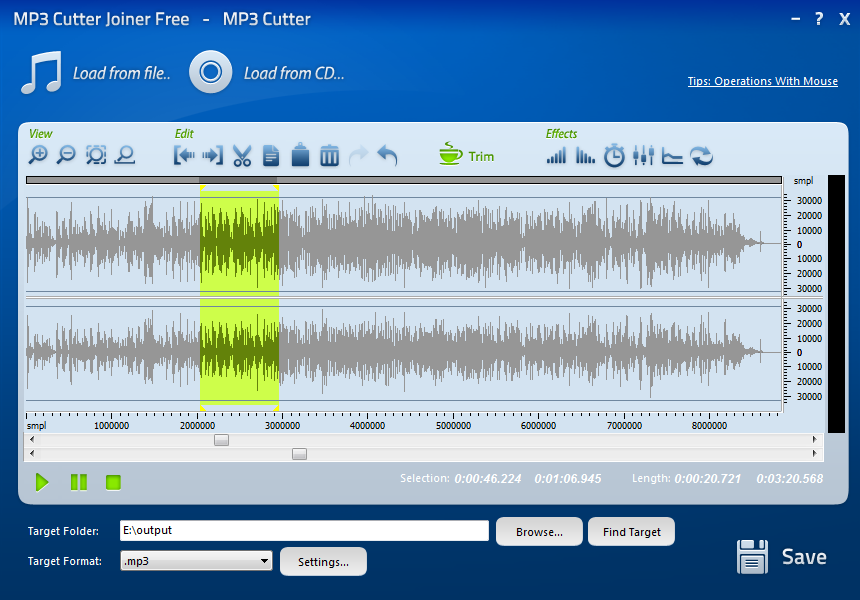 Step 1. Activate the Free MP3 Cutter/Merger
Once MP3 Cutter Joiner Free has been launched, choose "MP3 Cutter Free" to launch.
Step 2. Add Audio File
Click "Load from file…" and select a MP3 audio file from your computer and click "Open" to input the audio file to program window.
Step 3. Select a Part to Cut
MP3 Cutter Joiner Free provides four ways to select: use hotkey like Shift+Home, Shift+End to select from start/end; drag along with the waveform; move the sliders; input the start, end or length of time.
Step 4. Save the Changes
Click "Browse…" to choose an output folder for the cut MP3 file. Select an output format in the menu of "Target Format". Click "Save" to output the file.
---
How to Use Best MP3 Merger to Merge Audio Files?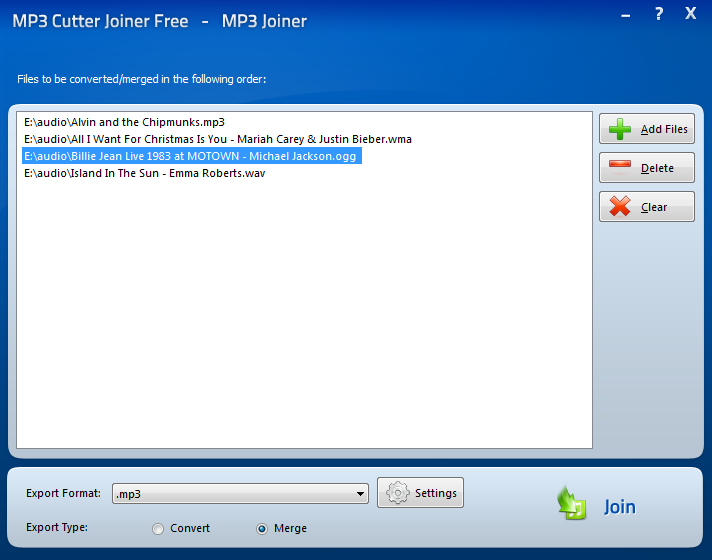 Step 1. Activate the Free MP3 Cutter/Merger
Once MP3 Cutter Joiner Free has been launched, choose "MP3 Joiner Free" to launch.
Step 2. Add Audio Files
Click "Add Files" to add audio files to the task list or you can drag & drop, copy & paste them to the program window.
Step 3. Adjust Output Settings
Choose an output format from the list of "Export Format". Click "Settings" to adjust the output quality with custom presets or specify the configuration parameters. Then, choose "Merge" mode from the "Export Type".
Step 4. Start Joining
Click "Join" to choose an output folder and enter the output file name in the activated window. Last, click "Save" to start joining.
Download for Windows Download for Mac
---
Top Alternatives of Best MP3 Cutter Software
MixPad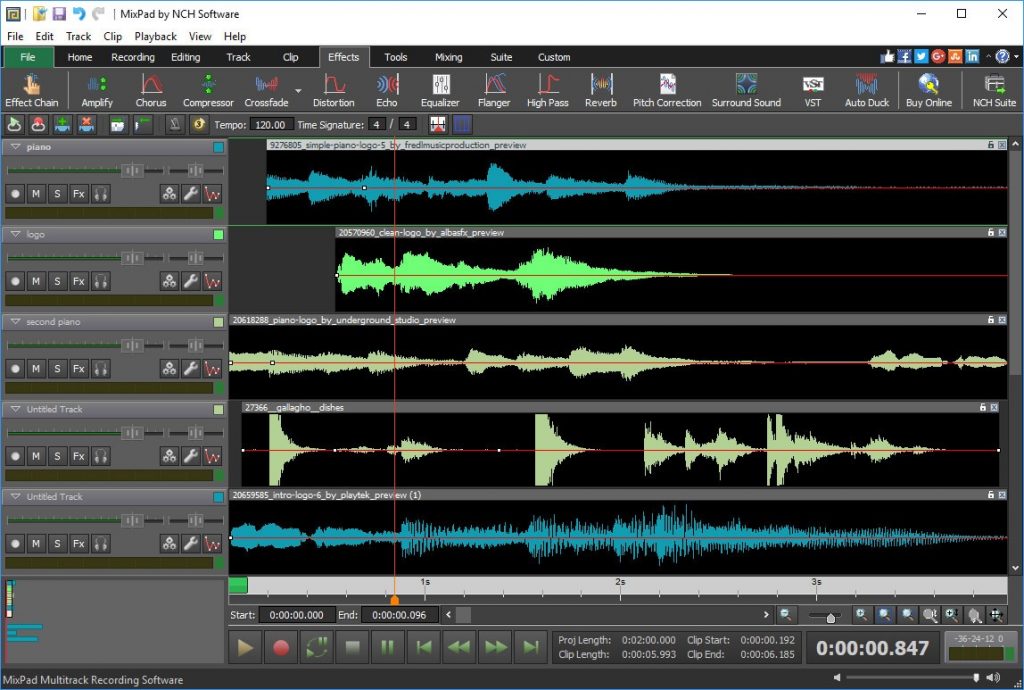 MixPad is one of the many MP3 cutter software options on the market, available to Windows users. This program offers free home versions as well as paid professional ones which give users even more editing features. With MixPad, users can mix an unlimited amount of audio tracks from any format, combining them into a single track. MixPad also gives users access to a royalty-free music library, which they can draw from when cutting and combining different audio tracks. Or, for those looking for even more creativity to add to the audio, MixPad allows users to record their own tracks so that they can merge with other audio clips. This easy-to-use program gives users many great features for editing, cutting, and merging tracks.
Pros:
Can upload files to SoundCloud, Dropbox, or Google Drive.
It is easy-to-use.
You can record your own tracks.
Cons:
MixPad's interface is outdated.
It does not offer EQ settings.
---
Free MP3 Cutter and Editor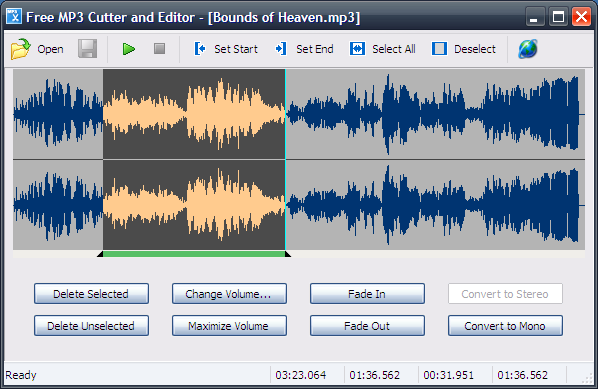 Another free option is Free MP3 Cutter and Editor which, as the name clearly implies, is another free software. Free MP3 Cutter and Editor is an extremely simple program that is best for basic audio file cutting and sound level adjustments, but nothing and more advanced than that, unfortunately. There are no fancy tools with this editor like some of the other options you may find on this list, but for simple jobs, it will get the job done without any problems. On top of that, it is incredibly user-friendly, making it easy for anyone who downloads it to figure out and use successfully.
Pros:

Easy-to-use program.
Single click volume control.
Small interface.

Cons:

Only works with MP3 and WAV formats.
No special sound effects or filters.
Cannot edit audio channels separately.
---
Audacity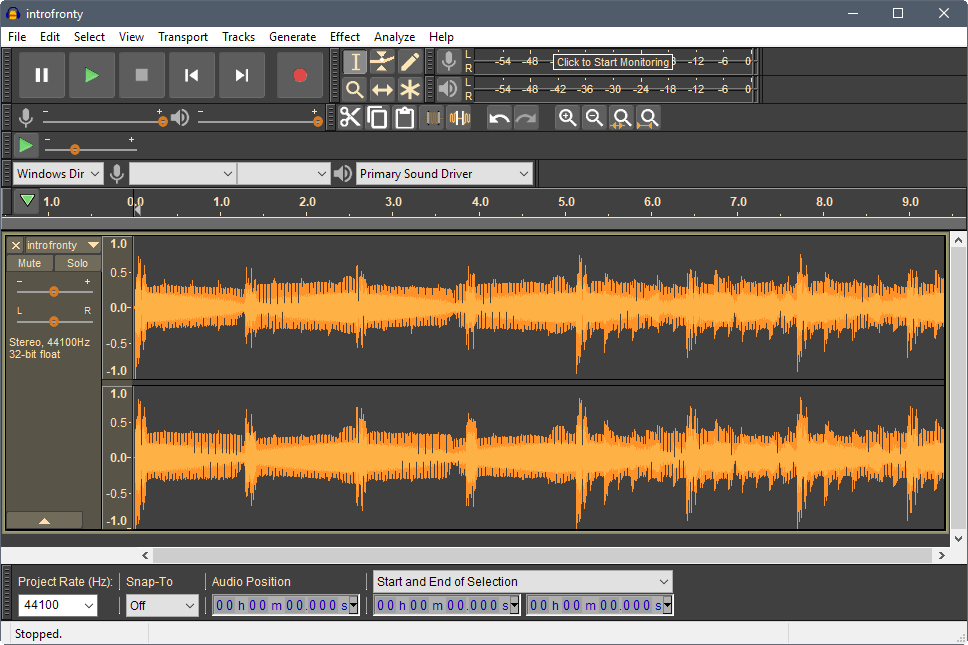 Audacity may be the most popular MP3 cutter software on this list. This powerful open-source program has a lot going for it and is a great free alternative to the expensive cutter and merger programs currently on the market. The best part about Audacity is that, even with all that it has to offer users, it is still an easy-to-use software. With this program, you can do virtually everything, from creating your own audio files, cut and combine different audio clips, remove noise from audio, use special effects, and so much more. Another great feature that Audacity has going for it is the fact that the program can be expanded with downloaded plugins, which will allow users access to additional effects and can help integrate Audacity with other applications. So, if you are looking for a more feature-rich program to get started with music production, podcasts, or virtually any audio-based project, then Audacity is a great option to consider.
Pros:
Advanced features and tools.
Advanced editing options.
User-friendly.
Cons:
Effects may not always work as desired.
---
mp3DirectCut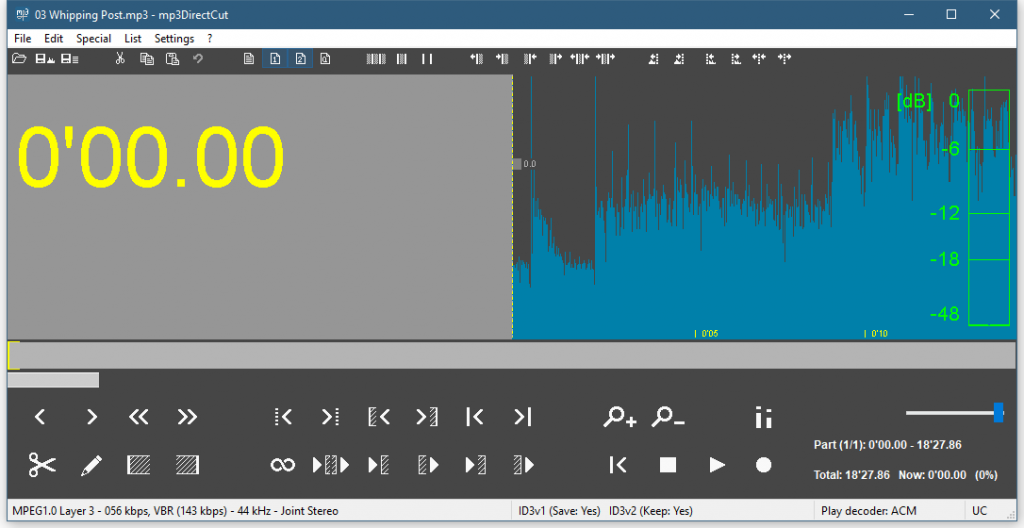 mp3DirectCut is another MP3 cutter program available to the public for editing audio clips. Like Audacity, it is an incredibly popular program that offers a number of different tools and controls to users. ,mp3DirectCut features an intuitive and easily understandable interface, which makes the application easily accessible to users of all skill levels. While it may not offer all the bells and whistles of Audacity or a paid program, it will be more than enough to work on simpler projects. With mp3DirectCut, you also have the ability to compress audio files you have edited and convert them to a PCM format, which will take up less space on your hard drive.
Pros:
Easy-to-navigate program interface.
Ability to compress MP3 to PCM.
Cons:
Difficult program to install.
---
WavePad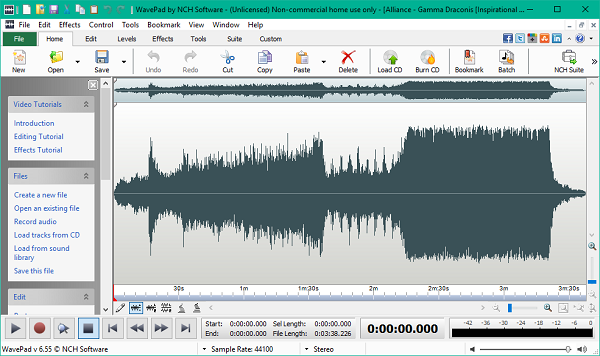 WavePad may very well be Audacity's toughest competition when it comes to MP3 cutter software, and may even the best free software available. With both free and paid versions, WavePad has countless features that make projects easy to work with. Regardless of your skill level, WavePad is a program that is easy-to-use and has a wide file format compatibility. If you are looking for another full-featured, free cutter and merger software that can easily compete with paid options, then WavePad is another great one to consider.
Pros:
Largest audio effect and filter library for a free program.
Offers free and paid versions.
Cons:
Customer support difficult to receive for the free version of the program.
---
MP3splt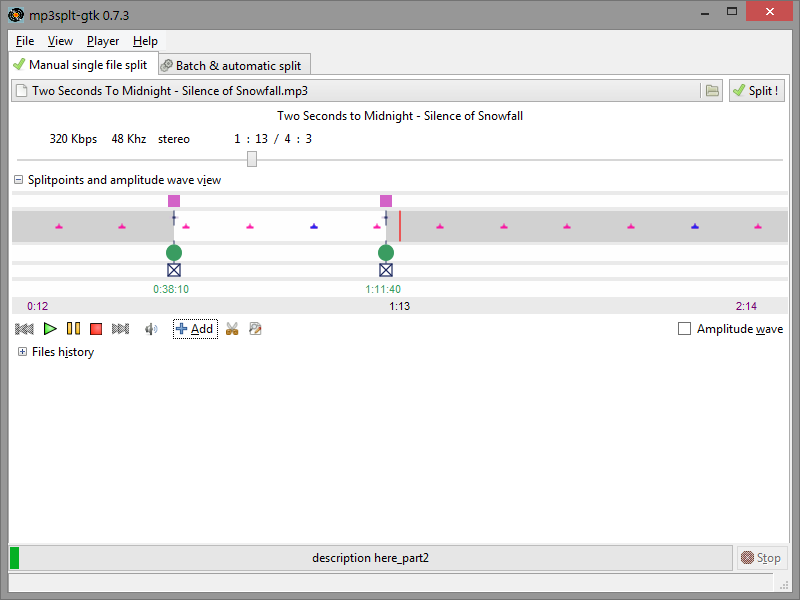 Another great MP3 cutter software option to consider is MP3splt. This open-source software is a great option for cutting MP3 clips into smaller segments to make things like soundbites and ringtones. With MP#splt, you have two methods of audio splitting: you can either choose to do it manually or tell the program what you want split and let it do all the work for you. It makes MP3splt fairly easy to use, even for someone completely new to such a program and is still figuring it all out. With MP3splt, you also have the ability to look up album information through their online CD database.
Pros:
Supports MP3, Ogg Vorbis, and FLAC formats.
Cons:
Cannot be used to merge different audio files.
Not as many effects and filters.
Please follow and like us: